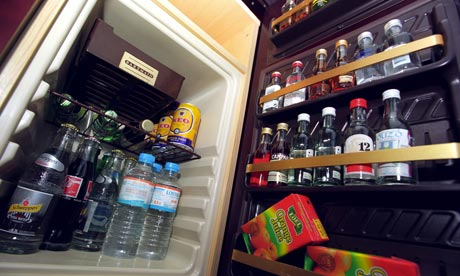 MarketWatch: Hotels and resorts are increasingly stocking minibars with healthier alternatives to traditional high-fat, high-sugar snacks — a boon to business and leisure travelers as well as the hospitality industry.
At the Hyatt Hotels Corp.-owned Andaz Wall Street in New York, minibars are stocked with organic Clif Bars and Terra plain and vegetable natural chips. This summer, the Four Seasons Hotel Austin in Texas will test the sales of six organic, healthy and/or locally-produced products, including peeled mango, ginger tea and nut-and-fruit gluten-free energy bars.
Three out of four in-room snack-box choices in Loews Hotels include low-fat items such as trail mix, cashews and honey-wheat pretzels. The trail mix and cashews outsell the chocolate cookies, and Fiji Water is the minibar's most popular item at the Loews Coronado Bay Resort in San Diego, said Adam Martindale, the resort's director of food and beverage.
Minibars were once mostly a collection of high-fat, sugary impulse treats like chips, cookies, sodas, plus alcoholic beverages. While those items won't be disappearing, travelers — particularly business travelers with a hectic schedule — will notice changes for the better when it comes to in-room convenience options.
Hotels with minibars increasingly offer at least one or two healthier choices, and nuts are the most popular, said Matthew Jones, director of West Coast operations for In-Room West, a subsidiary of In-Room Plus which stocks minibars in hundreds of hotels nationwide and globally.
Supporting the amenity approach, minibars themselves have not been big moneymakers for hotels, accounting for less than 1% of total hotel revenues in 2010, said Robert Mandelbaum, director of research information services for PKF Hospitality Research, which tracks hotel trends. Many guests are reluctant to pay typically steep mark-ups for snack items, but customizing in-room offerings can create an additional incentive to buy, he said.
The demand for healthier minibar snacks has been growing slower than the consumer market might predict, said Alvaro Garza, founder and president of the Dallas, Texas-based Healthy Minibar, which specializes in all-natural snack products. Healthy Minibar has attracted 42 hotel clients including the Four Seasons Hotel Austin during the past few years, but the biggest challenge has been educating hotels about the demand for and health benefits of natural snack food products, he said.
"Even though success may not be immediate, hotels are going to need that support to make the transition towards 'better for you' [food]," Garza said.
Hyatt Regency and Grand Hyatt hotels have mostly removed in-room minibars, but some of the properties in more health-conscious markets are selling trail mixes and similar snacks in lobby grab-and-go markets, said Katie Rackoff, a Hyatt Hotels spokeswoman.