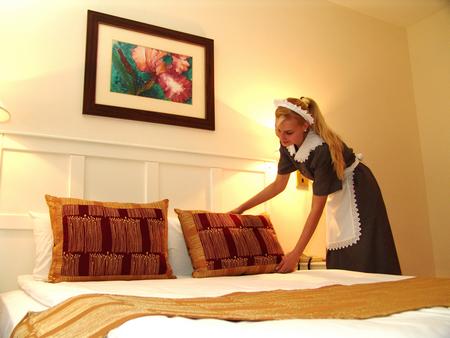 MSNBC: If you've found yourself unhappy about the service and amenities at a hotel recently, you're not alone. According to the just-released J.D. Power and Associates 2011

North America Hotel Guest Satisfaction Index Study

, hotel guests are more upset about their hotel experiences than the costs and fees they encounter along the way.
The study, which surveyed more than 61,300 guests from the U.S. and Canada who stayed in a hotel in North America between May 2010 and May 2011, showed overall satisfaction scores slipped to 764 (out of 1,000) in 2011 from 771 in 2010 .
Split among seven categories, the top-scoring hotels were:
- Luxury: The Ritz-Carlton (858 points)
- Upper Upscale: Embassy Suites Hotels (817)
-
Upscale: Hotel Indigo (838)
-
Mid-Scale Full Service: Holiday Inn (775)
- Mid-Scale Limited Service: Drury Inn & Suites (836)
- Economy/Budget: Microtel Inns & Suites (740)
- Extended Stay: Homewood Suites (821)
Specific scores aside, the overall results showed a somewhat counter-intuitive split: While satisfaction with services, facilities and operations was down, satisfaction with costs and fees increased 20 points, to 739, as hotels took a go-slow approach to raising room rates even as demand rebounded.
"Unlike the airline industry, in which prices were raised aggressively amid limited seat supply and high demand, the hotel industry has enacted more modest price increases and has had spare room capacity," said Stuart Greif, the company's vice president and general manager, global travel and hospitality practice and emerging industries division.
"The bright spot for hotel guests is that costs and fees remain relatively low, so the value received for the price paid is still quite high," he said. "The bright spot for hoteliers is that there appears to be more upward opportunity on rates."
In the meantime, added Greif, many hotel chains are now making investments that were delayed due to the recession, while resisting hiring more staff until they believe the current level of demand can be maintained: "The decline in overall satisfaction in 2011 reflects that hotel improvement efforts and investments are lagging behind rising customer expectations."