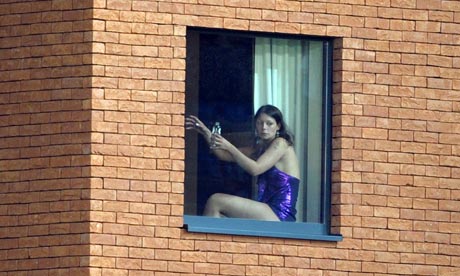 Model Alicia Tenderness

UPI
: A woman spotted having sex in a hotel room overlooking a Belgian stadium during a soccer match said she and her beau had thought the windows were tinted.
The woman, who identified herself by her stage name, Alicia Tenderness, 26, said she and her boyfriend did not realize soccer fans could see into their stadium hotel room during Saturday's Lokeren game in Sint-Truiden, the Dutch-language Sportwereld reported Monday.
Tenderness, a model and escort, said she and her boyfriend were shocked to see their picture in newspapers and on the Internet the following day.
"When checking out on Sunday morning the lady at the desk responded very cold, but we did not understand why. The realization came when we read the newspaper Monday," Tenderness said.
She expressed outrage that the hotel manager had filed an indecency complaint against her. She said the manager should have installed tinted windows in the rooms.