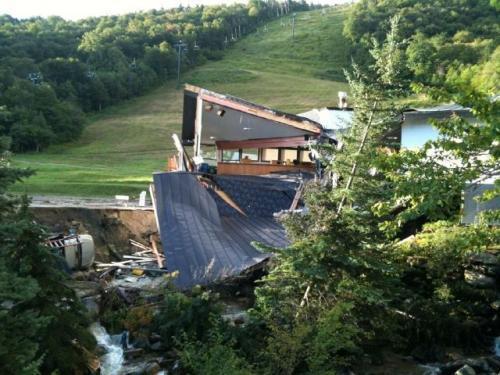 Killington's Damaged Ski Lodge

ESPN
: Hurricane Irene whipped through New England Sunday, causing damage to ski areas from Vermont to Maine.
At Killington ski resort in Vermont, flooding caused damage to the base lodge, lifts and roads. According to a release, a flooded creek caused the K-1 Lodge Superstar Pub's building to shift from its foundation. On Killington's Facebook page, the resort added, "The K-1 Base Lodge is not destroyed. The Superstar Pub portion of the K-1 Base Lodge, which is on a separate foundation, sustained the damage seen in photos."
Lift towers, lodging properties and the golf course at Killington also sustained minimal damage. Summer operations will reopen after crews assess the afflicted areas, and the ski area plans to open on schedule for the 2011-12 winter season.
At Sugarloaf ski area in Maine, the storm brought over eight inches of rain Sunday, causing structural damage to roads and bridges that access the resort. According to a release, two bridges on Maine's Highway 27, one north of Sugarloaf and one south, were damaged due to high volumes of water in the river. The bridge north of Sugarloaf was damaged and is currently impassable. The state has built a detour to avoid the damage on Highway 27, so there is still access to all of Sugarloaf's infrastructure, and the state is already working to start repairs and reopen the bridges.
"We are happy with the response made by the Maine Department of Transportation and Gov. [Paul] LePage," Brad Larsen, Sugarloaf's vice president of sales and marketing, told ESPN. "The state is working diligently to find solutions to the damage on Highway 27. The state understands the importance of Highway 27 to both commerce and tourism in the region, and Sugarloaf will be here to assist them every step of the way."